Bioprinting in Regenerative Medicine
Abstract
Prof. Turksen is a very well known scientist in the stem cell biology field and he is also internationally known for his fundamental studies on claudin-6. In addition to his research activity he is editor for the Stem Cell Biology and Regenerative Medicine series (Humana Press) and editor-in-chief of Stem Cell Reviews and Reports.....
Downloads
Download data is not yet available.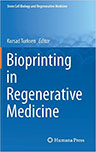 Statistics
Abstract views: 844

PDF: 292
HTML: 118

Share it
PlumX Metrics
PlumX Metrics provide insights into the ways people interact with individual pieces of research output (articles, conference proceedings, book chapters, and many more) in the online environment. Examples include, when research is mentioned in the news or is tweeted about. Collectively known as PlumX Metrics, these metrics are divided into five categories to help make sense of the huge amounts of data involved and to enable analysis by comparing like with like.
How to Cite
Monti, M. (2016). Bioprinting in Regenerative Medicine. European Journal of Histochemistry, 60(1). https://doi.org/10.4081/ejh.2016.2627
Copyright (c) 2016 Manuela Monti
This work is licensed under a Creative Commons Attribution-NonCommercial 4.0 International License.