Gamete and embryo-fetal origins of adult diseases
Abstract
By putting together the most advanced evidences supporting the 'gamete and embryo-fetal origins of adult diseases' the two editors, Prof. He-Feng Huang and Prof. Jian-Zhong Sheng (Hangzhou, People's Republic of China) did a great workk.....
Downloads
Download data is not yet available.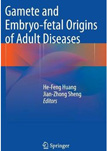 Statistics
Abstract views: 510

PDF: 207
HTML: 46

Share it
PlumX Metrics
PlumX Metrics provide insights into the ways people interact with individual pieces of research output (articles, conference proceedings, book chapters, and many more) in the online environment. Examples include, when research is mentioned in the news or is tweeted about. Collectively known as PlumX Metrics, these metrics are divided into five categories to help make sense of the huge amounts of data involved and to enable analysis by comparing like with like.
How to Cite
Monti, M. (2016). Gamete and embryo-fetal origins of adult diseases. European Journal of Histochemistry, 60(3). https://doi.org/10.4081/ejh.2016.2696
Copyright (c) 2016 Manuela Monti
This work is licensed under a Creative Commons Attribution-NonCommercial 4.0 International License.