Digital PCR - Methods and Protocols
Paolo Catarsi | p.catarsi@smatteo.pv.it

Center for the Study of Myelofibrosis, Laboratory of Biochemistry, Biotechnology and Advanced Diagnosis, IRCCS Policlinico San Matteo Foundation, Pavia, Italy.
Abstract
Sensitivity, reproducibility, precision and accuracy are recurring words in this book. Indeed, digital PCR (dPCR) represents a major step forward in the quantification of nucleic acids. In this field, for many years it has been used the quantitative PCR (qPCR), a technology that allows a real-time monitoring of DNA amplification which has proved useful for obtaining a relative measurement, but that only indirectly, through the use of reference standards, provides an absolute quantification....
Downloads
Download data is not yet available.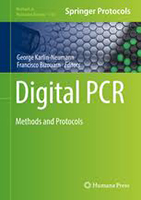 Info
Statistics
Abstract views:

562



PDF:

228

HTML:

0
How to Cite
Catarsi, P. (2019). Digital PCR - Methods and Protocols. European Journal of Histochemistry, 63(4). https://doi.org/10.4081/ejh.2019.3074
Copyright (c) 2019 The Author(s)
This work is licensed under a Creative Commons Attribution-NonCommercial 4.0 International License.