Mass spectrometry in food safety - Methods and Protocols
Abstract
Food safety is one of the main concern in a seven billion people world where food production is now-a-day a world enterprise. Food safety is a necessary pre-requisite for healthy citizens, a global duty that all main geographical areas (Europe, China, the USA and Japan) have addressed. However, the book is rightly opened by an overview of the European union regulations, the area where the most up-to-date regulations have been developed......
Downloads
Download data is not yet available.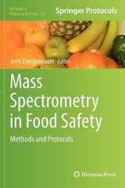 Statistics
Abstract views: 293

PDF: 146

Share it
PlumX Metrics
PlumX Metrics provide insights into the ways people interact with individual pieces of research output (articles, conference proceedings, book chapters, and many more) in the online environment. Examples include, when research is mentioned in the news or is tweeted about. Collectively known as PlumX Metrics, these metrics are divided into five categories to help make sense of the huge amounts of data involved and to enable analysis by comparing like with like.
How to Cite
Redi, C. A. (2012). Mass spectrometry in food safety - Methods and Protocols. European Journal of Histochemistry, 56(4), br17. https://doi.org/10.4081/ejh.2012.br17
Copyright (c) 2012 Carlo Alberto Redi
This work is licensed under a Creative Commons Attribution-NonCommercial 4.0 International License.