Vertebrate embryogenesis - Embryological, cellular and genetic methods
Abstract
It is likely that more than half of the current bio-medical researches are dealing with developmental biology topics (generally speaking): I tried several PubMed searches (changing the queries in other metric's providers do not change the overall features I got) and what I figured out is the impressive datum that in between 50 – 60% of the results can be fully categorized under the umbrella term of developmental biology....
Downloads
Download data is not yet available.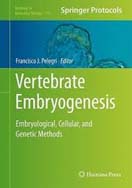 Statistics
Abstract views: 285

PDF: 122

Share it
PlumX Metrics
PlumX Metrics provide insights into the ways people interact with individual pieces of research output (articles, conference proceedings, book chapters, and many more) in the online environment. Examples include, when research is mentioned in the news or is tweeted about. Collectively known as PlumX Metrics, these metrics are divided into five categories to help make sense of the huge amounts of data involved and to enable analysis by comparing like with like.
How to Cite
Redi, C. A. (2012). Vertebrate embryogenesis - Embryological, cellular and genetic methods. European Journal of Histochemistry, 56(4), br18. https://doi.org/10.4081/ejh.2012.br18
Copyright (c) 2012 Carlo Alberto Redi
This work is licensed under a Creative Commons Attribution-NonCommercial 4.0 International License.