Liver stem cells - Methods and protocols
Abstract
The brief and concise preface written by prof. Takahiro Ochiya is particularly well addressed to scholars belonging to different scientific fields: cellular and molecular biology, liver and cancer biology, tissue engineering and stem cell therapy. By a few lines prof Ochiya is telling us that we are getting exciting results, at the lab and the preclinical level, in treating liver injuries thanks to the unprecedented advances in our knowledge on liver stem cells biology....
Downloads
Download data is not yet available.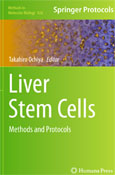 Info
Statistics
Abstract views:

1562



PDF:

125
How to Cite
Redi, C. A. (2013). Liver stem cells - Methods and protocols. European Journal of Histochemistry, 57(3), br10. https://doi.org/10.4081/ejh.2013.br10
Copyright (c) 2013 Carlo Alberto Redi
This work is licensed under a Creative Commons Attribution-NonCommercial 4.0 International License.