A picture is worth a thousand tables - graphics in life sciences
Abstract
As few years ago BD MacArthur, A Ma'ayan and IR Lemischka  (Department of Gene and Cell Medicine, The Black Family Stem Cell Institute, Mount Sinai School of Medicine, New York) pointed out in a very interesting paper (titled Toward stem cell systems biology: from molecules to networks and landscapes published on Cold Spring Harb Symp Quant Biol 73:211-215, 2008) we have nowaday the need to use landscape representations to show the overwelming amount of data we accumulate even in a single experiment....
Downloads
Download data is not yet available.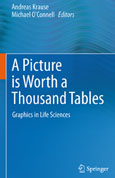 Info
Statistics
Abstract views:

1660



PDF:

230
How to Cite
Redi, C. A. (2013). A picture is worth a thousand tables - graphics in life sciences. European Journal of Histochemistry, 57(3), br12. https://doi.org/10.4081/ejh.2013.br12
Copyright (c) 2013 Carlo Alberto Redi
This work is licensed under a Creative Commons Attribution-NonCommercial 4.0 International License.