Nuclear factor-kB and nitric oxide synthases in red blood cells: good or bad in obesity? A preliminary study
Monika Široká

Department of Medical and Clinical Biochemistry, Faculty of Medicine, P.J. Šafárik University, Košice, Slovakia.

Caterina Franco

Anatomy and Physiopathology Division, Department of Clinical and Experimental Sciences, University of Brescia, Italy.

Zuzana Guľašová

Department of Experimental Medicine, Faculty of Medicine, P.J. Šafarik University, Košice, Slovakia.

Zdenka Hertelyová

Department of Experimental Medicine, Faculty of Medicine, P.J. Šafarik University, Košice, Slovakia.

Vladimíra Tomečková

Department of Medical and Clinical Biochemistry, Faculty of Medicine, P.J. Šafárik University, Košice, Slovakia.

Luigi F. Rodella

Anatomy and Physiopathology Division, Department of Clinical and Experimental Sciences, University of Brescia; Interdipartimental University Center of Research "Adaption and Regeneration of Tissues and Organs-(ARTO)", University of Brescia, Italy.

Rita Rezzani | rita.rezzani@unibs.it

Anatomy and Physiopathology Division, Department of Clinical and Experimental Sciences, University of Brescia; Interdipartimental University Center of Research "Adaption and Regeneration of Tissues and Organs-(ARTO)", University of Brescia, Italy.

https://orcid.org/0000-0002-7515-5846
Abstract
Emerging evidence suggests that red blood cells (RBCs) are involved in many functions essential for life. Nuclear factor-kB (NF-kB), nitric oxide synthases (inducible nitric oxide synthase -iNOS-, endothelial nitric oxide synthase -eNOS-) and interleukin-1β (-IL-1β-) are all proteins that have been identified in RBCs. In nucleated cells, such as white blood cells (WBCs), these proteins have well investigated roles, linked to stress and inflammation. It is not the same in erythrocytes, for this reason, we considered obese patients for studying the morphology of RBCs. We studied a possible correlation between their morphological changes and several protein expressions. Moreover, we compared the results about the aforementioned proteins and antioxidant markers with those obtained in WBCs from healthy and obese patients before and after omega-3 polyunsaturated fatty acid supplementation. This latter scientific point is important in order to determine whether there are differences in the expression of nucleated and anucleated cells. The morphology of RBCs changed in obese patients, but it is significantly restored after six weeks of supplementation. The expression of antioxidant enzymes changed in RBCs and WBCs in obesity but all proteins restore their positivity after supplementation. We found that: the presence of NF-kB, antioxidant enzymes and eNOS in healthy RBCs could indicate a role of these proteins as regulators of cellular metabolism; obese WBCs showed a higher NF-kB, iNOS and IL-1β positivity, whereas eNOS presence did not significantly change in these cells. We tried to explain the different positivity of NF-kB, proposing a dual role for this protein, as prolifespan and as proinflammatory processes, depending on examined cells. In conclusion, we have considered the literature that focuses on the omega-6/omega-3 ratio. The ratio changed from the past, especially in people whose diet is strongly westernized worsening the state of health of the patient and leading to an higher incidence of obesity. Our study hypothesizes that the supplementation could help to restore the correct ratio.
Downloads
Download data is not yet available.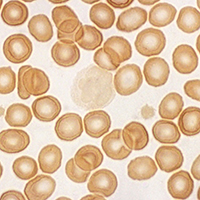 Info
Supporting Agencies
60% grant (University of Brescia, Italy), VEGA and APVV grant (VEGA 1/0584/16; APVV-16-0176) of the Ministry for Education, Science, Research and Sport of the Slovak Republic, Operational Program Research and Innovation for the project: Bioactive substances to promote health and prevent chronic diseases (PROBIO-3: NFP313010T651), financed by the European Regional Development Fund
Keywords:
Metabolic syndrome, erythrocytes, inflammation, oxidative stress, therapeutic strategies
Statistics
Abstract views:

309



PDF:

150

HTML:

0
How to Cite
Široká, M., Franco, C., Guľašová, Z., Hertelyová, Z., Tomečková, V., Rodella, L. F., & Rezzani, R. (2020). Nuclear factor-kB and nitric oxide synthases in red blood cells: good or bad in obesity? A preliminary study. European Journal of Histochemistry, 64(1). https://doi.org/10.4081/ejh.2020.3081
Copyright (c) 2020 The Author(s)
This work is licensed under a Creative Commons Attribution-NonCommercial 4.0 International License.