The psoriatic shift induced by interleukin 17 is promptly reverted by a specific anti-IL-17A agent in a three-dimensional organotypic model of normal human skin culture
Elena Donetti | elena.donetti@unimi.it

Department of Biomedical Sciences for Health, University of Milan, Italy.

https://orcid.org/0000-0002-5634-5863

Giulia Lombardo

Department of Biomedical Sciences for Health, University of Milan, Italy.

https://orcid.org/0000-0002-7271-1587

Serena Indino

Department of Biomedical Sciences for Health, University of Milan, Italy.

https://orcid.org/0000-0002-3227-0553

Laura Cornaghi

Department of Biomedical Sciences for Health, University of Milan, Italy.

Francesca Arnaboldi

Department of Biomedical Sciences for Health, University of Milan, Italy.

https://orcid.org/0000-0003-2041-9928

Leonardo Pescitelli

Department of Surgery and Translational Medicine, University of Florence, Italy.

Franz Baruffaldi Preis

Plastic Surgery Unit, Ospedale Niguarda Ca' Granda, Milan, Italy.

Francesca Prignano

Department of Surgery and Translational Medicine, University of Florence, Italy.

https://orcid.org/0000-0002-5997-2045
Abstract
Interleukin 17A (IL-17A), mainly produced by the T helper subclass Th17, plays a key role in the psoriatic plaque formation and progression. The clinical effectiveness of anti-IL-17A agents is documented, but the early and specific mechanisms of their protection are not identified yet. The challenge of the present study is to investigate the possible reversal exerted by a specific anti-IL-17A agent on the psoriatic events induced by IL-17A in a three-dimensional organotypic model of normal human skin. Bioptic skin fragments obtained after aesthetic surgery of healthy women (n=5) were incubated with i) IL-17A biological inhibitor (anti-IL-17A), ii) IL-17A, iii) a combination of IL-17A and its specific IL-17A biological inhibitor (COMBO). A Control group was in parallel cultured and incubation lasted for 24 and 48 h epidermal-side-up at the air-liquid interface. All subjects were represented in all experimental groups at all considered time-points. Keratinocyte proliferation and the presence of epidermal Langerhans cells were quantitatively estimated. In parallel with transmission electron microscopy analysis, immunofluorescence studies for the epidermal distribution of keratin (K)10, K14, K16, K17, filaggrin/occludin, Toll-like Receptor 4, and Nuclear Factor kB were performed. IL-17A inhibited cell proliferation and induced K17 expression, while samples incubated with the anti-IL-17A agent were comparable to controls. In the COMBO group the IL-17A-induced effects were almost completely reverted. Our study, for the first time, elucidates the most specific psoriatic cellular events that can be partially affected or completely reverted by a specific anti-IL-17A agent during the early phases of the plaque onset and progression. On the whole, this work contributes to expand the knowledge of the psoriatic tableau.
Downloads
Download data is not yet available.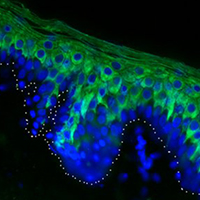 Info
Keywords:
Langerhans cells, keratinocytes, keratin 17, cell proliferation, transmission electron microscopy, epidermal barrier
Statistics
Abstract views:

313



PDF:

145

HTML:

0
How to Cite
Donetti, E., Lombardo, G., Indino, S., Cornaghi, L., Arnaboldi, F., Pescitelli, L., Baruffaldi Preis, F., & Prignano, F. (2020). The psoriatic shift induced by interleukin 17 is promptly reverted by a specific anti-IL-17A agent in a three-dimensional organotypic model of normal human skin culture . European Journal of Histochemistry, 64(2). https://doi.org/10.4081/ejh.2020.3115
Copyright (c) 2020 The Author(s)
This work is licensed under a Creative Commons Attribution-NonCommercial 4.0 International License.