The substance P and neurokinin-1 receptor system in human thyroid cancer: an immunohistochemical study
Abstract
To develop a new therapeutic strategy against thyroid cancer (TC), the expression of both substance P (SP) and neurokinin-1 receptor (NK-1R) must be demonstrated in TC cells. This study aims to examine by immunohistochemistry, the localization of SP and the NK-1R in human TC samples (papillary, follicular, medullary, anaplastic), in metastasis and in healthy thyroid samples. SP and the NK-1R were expressed in all normal and TC samples. In healthy glands, SP was located in follicular cells (nucleus) and colloid and NK-1R in follicular cells (cytoplasm) and stroma. In TC samples, SP was visualized in follicular cells (nucleus and cytoplasm), stroma and colloid and NK-1R in follicular cells (cytoplasm), stroma and colloid. A semiquantitative scoring system (Allred Unit Scoring System) was applied. The expression (Allred total score) of SP and NK-1R was weaker in normal thyroid glands than in TC. In comparison with TC samples, a lower intensity/proportion of SP (nucleus and cytoplasm of follicular cells; stroma) was observed in normal samples. By contrast, in the colloid of TC samples the presence of SP was lower than in normal samples. In comparison with TC samples, the presence of the NK-1R in the cytoplasm of follicular cells and colloid was lower in normal thyroid samples, whereas the expression of this receptor in the stroma was higher. The results reported in this study suggest that the NK-1R could be a new target for the treatment of TC and use of the NK-1R antagonists could serve as a new anti-TC therapeutic strategy.
Downloads
Download data is not yet available.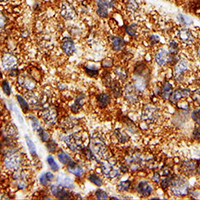 Info
Keywords:
Immunohistochemistry, NK-1 receptor, nucleus, SP, tachykinin, thyroid gland
Statistics
Abstract views:

307



PDF:

131

HTML:

0
How to Cite
Isorna, I., Esteban, F., Solanellas, J., Coveñas, R., & Muñoz, M. (2020). The substance P and neurokinin-1 receptor system in human thyroid cancer: an immunohistochemical study . European Journal of Histochemistry, 64(2). https://doi.org/10.4081/ejh.2020.3117
Copyright (c) 2020 The Author(s)
This work is licensed under a Creative Commons Attribution-NonCommercial 4.0 International License.