Characterization of kynurenine pathway in patients with diarrhea-predominant irritable bowel syndrome
Pingping Li

Department of Gastroenterology and Hepatology, Hebei General Hospital, Shijiazhuang, China.

Jimin Zheng

Department of Gastroenterology and Hepatology, Hebei General Hospital, Shijiazhuang, China.

Yun Bai

Department of Gastroenterology and Hepatology, Hebei General Hospital, Shijiazhuang, China.

Dingxin Wang

Department of Gastroenterology and Hepatology, Hebei General Hospital, Shijiazhuang, China.

Zijin Cui

Department of Gastroenterology and Hepatology, Hebei General Hospital, Shijiazhuang, China.

Yueqin Li

Department of Gastroenterology and Hepatology, Hebei General Hospital, Shijiazhuang, China.

Jian Zhang

Department of Gastroenterology and Hepatology, Hebei General Hospital, Shijiazhuang, China.

Yuzhen Wang | wyzhen8543@sina.com

Department of Gastroenterology and Hepatology, Hebei General Hospital, Shijiazhuang, China.

https://orcid.org/0000-0002-4087-5501
Abstract
Our objectives are to demonstrate whether the kynurenine pathway is activated in diarrhea-type irritable bowel syndrome (IBS-D) patients, and whether the neurotoxic metabolite quinolinic acid (QUIN) is out of balance with the neuroprotective metabolite kynurenic acid (KYNA), and further explore whether this can lead to increase of N-methyl D-aspartate receptor 2B (NMDAR2B) expression in the enteric nervous system and in turn leads to intestinal symptoms and mood disorders. All enrolled healthy controls and patients accepted IBS symptom severity scale (IBS-SSS) score, Self-rating Depression Scale (SDS) and Self-rating Anxiety Scale (SAS) anxiety and depression scores, and also underwent colonoscopy to collect ileum and colonic mucosa specimens. The expression of NMDAR2B in intestinal mucosa was detected by immunofluorescence, and fasting serum was collected to detect the tryptophan (Trp), kynurenine (KYN), KYNA and QUIN by high performance liquid chromatography tandem mass spectrometry (HPLC-MS/MS). Our results showed that the kynurenine pathway of IBS-D patients was activated. The production of QUIN and KYNA was imbalanced and resulting in an increased NMDAR2B for patients with IBS-D, which may be involved in intestinal symptoms and mood disorders of IBS-D.
Downloads
Download data is not yet available.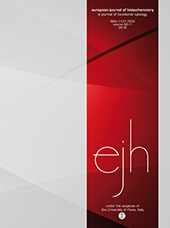 Info
Section
Special Issue - Stem cells and regenerative medicine
Keywords:
irritable bowel syndrome, kynurenine pathway, kynurenic acid, quinolinic acid, N-methyl D-aspartate receptor
Statistics
Abstract views:

256



PDF:

153

HTML:

0
How to Cite
Li, P., Zheng, J., Bai, Y., Wang, D., Cui, Z., Li, Y., Zhang, J., & Wang, Y. (2020). Characterization of kynurenine pathway in patients with diarrhea-predominant irritable bowel syndrome. European Journal of Histochemistry, 64(s2). https://doi.org/10.4081/ejh.2020.3132
Copyright (c) 2020 The Author(s)
This work is licensed under a Creative Commons Attribution-NonCommercial 4.0 International License.