RETRACTED: Neural stem cell conditioned medium alleviates Aβ25-35 damage to SH-SY5Y cells through the PCMT1/MST1 pathway
Guoyong Jia

Department of Neurology, Qilu Hospital, Cheeloo College of Medicine, Shandong University, Jinan, China.

https://orcid.org/0000-0002-7418-0628

Hongna Yang

Department of Critical-care Medicine, Qilu Hospital, Cheeloo College of Medicine, Shandong University, Jinan, China.

Zengyan Diao

Department of Neurology, Qilu Hospital, Cheeloo College of Medicine, Shandong University, Jinan, China.

https://orcid.org/0000-0002-1848-5953

Ying Liu

Department of Neurology, Qilu Hospital, Cheeloo College of Medicine, Shandong University, Jinan, China.

Congcong Sun | suncongcong@sdu.edu.cn

Department of Neurology, Qilu Hospital, Cheeloo College of Medicine, Shandong University, Jinan, China.

https://orcid.org/0000-0001-5343-4425
Abstract
Alzheimer's disease (AD) is a progressive, neurodegenerative disease. Accumulating evidence suggests that protein isoaspartate methyltransferase 1 (PCMT1) is highly expressed in brain tissue (substantia nigra, blue plaque, paraventricular nucleus). In this study, we investigated the effect of neural stem cell conditioned medium alleviates Aβ25-35 damage to SH-SY5Y cells by PCMT1/MST1 pathway. Results demonstrated that Aβ25-35 significantly decreased the cell viability in time and dose dependent manner. However, Neural stem cell-complete medium (NSC-CPM) or NSC-CDM had inhibitory effect on toxicity when fibrillation of Aβ25-35 occurred in their presence and NSC-CDM had a better inhibitor result. An increase of the PCMT1 expression levels was found in Aβ25-35 + NSC-CDM group. sh-PCMT1 significantly reduced the PCMT1, the cell viability and inhibited the protective effect; induced apoptosis and increased the expression of p-MST1. Overexpression of PCMT1 group reversed the effect of Aβ25-35 inhibited the cell viability and Aβ25-35 induced the apoptosis. In conclusion, NSC-CDM corrects the damage of Aβ25-35 to cells by increasing PCMT1, reducing MST phosphorylation.
Downloads
Download data is not yet available.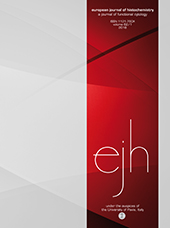 Info
Section
Special Issue - Stem cells and regenerative medicine
Keywords:
Neural stem cell conditioned medium, apoptosis, amyloid β25-35, SH-SY5Y cells, protein L-Isoaspartate (D-Aspartate) O-Methyltransferase (PCMT1)
Statistics
Abstract views:

260



PDF:

133
How to Cite
Jia, G., Yang, H., Diao, Z., Liu, Y., & Sun, C. (2020). <b>RETRACTED</b>: Neural stem cell conditioned medium alleviates Aβ<sub>25-35</sub&gt; damage to SH-SY5Y cells through the PCMT1/MST1 pathway. European Journal of Histochemistry, 64(s2). https://doi.org/10.4081/ejh.2020.3135
Copyright (c) 2020 The Author(s)
This work is licensed under a Creative Commons Attribution-NonCommercial 4.0 International License.