Atomic force microscopy in biomedical research - Methods and protocols
Abstract
Pier Carlo Braga and Davide Ricci are old friends not only for those researchers familiar with Atomic force microscopy (AFM) but also for those beginners (like the undersigned) that already enthusiastically welcomed their 2004 edition (for the same Humana press printing types) of Atomic force microscopy: Biomedical methods and applications, eventhough I never had used the AFM. That book was much intended to overview the possible AFM applications for a wide range of readers so that they can be in some way stimulated toward the AFM use. In fact, the great majority of scientists is afraid both of the technology behind AFM (that is naturally thought highly demanding in term of concepts not so familiar to biologists and physicians) and of the financial costs: both these two factors are conceived unapproachable by the medium range granted scientist usually not educated in terms of biophysics and electronic background....
Downloads
Download data is not yet available.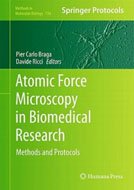 Info
Statistics
Abstract views:

505



PDF:

336
How to Cite
Redi, C. (2011). Atomic force microscopy in biomedical research - Methods and protocols. European Journal of Histochemistry, 55(4), br19. https://doi.org/10.4081/ejh.2011.br19
Copyright (c) 2011 CarloAlberto Redi
This work is licensed under a Creative Commons Attribution-NonCommercial 4.0 International License.