Anastomotic healing in a rat model of peritonitis after non-steroidal anti-inflammatory drug administration
Roberto Ghiselli

Clinic of Surgery, Marche Polytechnic University, Ancona , Italy.

https://orcid.org/0000-0002-6957-7452

Guendalina Lucarini

Department of Clinical and Molecular Sciences, Marche Polytechnic University, Ancona, Italy.

https://orcid.org/0000-0003-3218-5620

Monica Ortenzi

Clinic of Surgery, Marche Polytechnic University, Ancona , Italy.

https://orcid.org/0000-0002-6508-6488
Eleonora Salvolini | e.salvolini@univpm.it

Department of of Odontostomatologic and Specialized Clinical Sciences, Marche Polytechnic University, Ancona, Italy.

https://orcid.org/0000-0003-2405-8947

Stefania Saccomanno

Department of Clinical and Molecular Sciences, Marche Polytechnic University, Ancona, Italy.

https://orcid.org/0000-0003-2567-5445

Fiorenza Orlando

Experimental Animal Models for Aging Units, Scientific Technological Area, IRCCS INRCA, Ancona, Italy.

https://orcid.org/0000-0001-7351-4430

Mauro Provinciali

Experimental Animal Models for Aging Units, Scientific Technological Area, IRCCS INRCA, Ancona, Italy.

https://orcid.org/0000-0002-0568-3002

Fabio Casciani

Clinic of Surgery, Marche Polytechnic University, Ancona , Italy.

Mario Guerrieri

Clinic of Surgery, Marche Polytechnic University, Ancona , Italy.

https://orcid.org/0000-0003-3983-1752
Abstract
The tissue inflammatory response can influence the outcome of anastomotic healing. Anastomotic leakage represents a dreadful complication after gastrointestinal surgery, in particular sepsis and intra-abdominal infections impair the restorative process of colic anastomoses. It has been debated whether the administration of non-steroidal anti-inflammatory drugs (NSAIDs) is a risk factor for dehiscence, since many patients receive NSAIDs in the early postoperative period. Our aim was, for the first time, to analyze the morpho-functional effects of postoperative administration of two commonly used NSAIDs, Diclofenac and Ketorolac, on the healing process of colo-colic anastomoses constructed under condition of fecal peritonitis in a rat model. Sixty adult male rats underwent two surgical procedures: peritonitis induction and colo-colic anastomosis, and were divided into three groups: 20 rats received saline; 20 rats 4 mg/kg Diclofenac and 20 rats 5 mg/kg Ketorolac. We assessed anastomosis strength, morphological features of tissue wound healing, immunohistochemical metalloproteinase 9 (MMP9) expression and collagen deposition and content by Sirius red staining and hydroxyproline level. We found no significant difference in bursting pressure, collagen content and organization and morphological features between the groups, except a significantly reduced presence of inflammatory cells and MMP9 expression in the groups treated with NSAIDs. Our findings showed that Diclofenac and Ketorolac administration did not affect post-surgical healing and did not increase the leakage risk of colo-colic anastomoses during peritonitis.
Downloads
Download data is not yet available.
PlumX Metrics
PlumX Metrics provide insights into the ways people interact with individual pieces of research output (articles, conference proceedings, book chapters, and many more) in the online environment. Examples include, when research is mentioned in the news or is tweeted about. Collectively known as PlumX Metrics, these metrics are divided into five categories to help make sense of the huge amounts of data involved and to enable analysis by comparing like with like.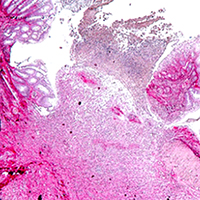 Keywords:
Non-steroidal inflammatory drugs, inflammation, colo-colic anastomosis, peritonitis, wound healing, MMP9
Statistics
Abstract views: 264

PDF: 118
HTML: 0

How to Cite
Ghiselli, R., Lucarini, G., Ortenzi, M., Salvolini, E., Saccomanno, S., Orlando, F., Provinciali, M., Casciani, F., & Guerrieri, M. (2020). Anastomotic healing in a rat model of peritonitis after non-steroidal anti-inflammatory drug administration. European Journal of Histochemistry, 64(1). https://doi.org/10.4081/ejh.2020.3085
Copyright (c) 2020 The Author(s)
This work is licensed under a Creative Commons Attribution-NonCommercial 4.0 International License.