Effects mediated by the α7 nicotinic acetylcholine receptor on cell proliferation and migration in rat adipose-derived stem cells
Marta Pernarella

Department of Biology and Biotechnologies "Charles Darwin", Sapienza University of Rome, Italy.

Roberta Piovesana

Department of Biology and Biotechnologies "Charles Darwin", Sapienza University of Rome, Italy.

https://orcid.org/0000-0003-2682-4473

Carlo Matera

Department of Pharmaceutical Sciences, Medicinal Chemistry Section "Pietro Pratesi", University of Milan, Italy.

https://orcid.org/0000-0001-6939-3859

Alessandro Faroni

Blond McIndoe Laboratories, Division of Cell Matrix Biology and Regenerative Medicine, University of Manchester, United Kingdom.

https://orcid.org/0000-0003-4435-6423

Mario Fiore

Institute of Molecular Biology and Pathology-CNR, Rome, Italy.

Luciana Dini

Department of Biology and Biotechnologies "Charles Darwin", Sapienza University of Rome, Italy.

https://orcid.org/0000-0002-2633-9040

Adam J. Reid

Department of Plastic Surgery and Burns, Wythenshawe Hospital, University of Manchester, United Kingdom.

https://orcid.org/0000-0003-1752-3302

Clelia Dallanoce

Department of Pharmaceutical Sciences, Medicinal Chemistry Section "Pietro Pratesi", University of Milan, Italy.

Ada Maria Tata | adamaria.tata@uniroma1.it

Department of Biology and Biotechnologies "Charles Darwin"; Research Centre of Neurobiology "Daniel Bovet", Sapienza University of Rome, Italy.

https://orcid.org/0000-0003-4868-5435
Abstract
Adipose-derived stem cells (ASCs) are an attractive source for regenerative medicine as they can be easily isolated, rapidly expandable in culture and show excellent in vitro differentiation potential. Acetylcholine (ACh), one of the main neurotransmitters in central and peripheral nervous systems, plays key roles in the control of several physiological processes also in non-neural tissues. As demonstrated in our previous studies, ACh can contribute to the rat ASCs physiology, negatively modulating ASCs proliferation and migration via M2 muscarinic receptor (mAChR) activation. In the present work we show that rat ASCs also express α7 nicotinic receptors (nAChRs). In particular, we have investigated the effects mediated by the selective activation of α7 nAChRs, which causes a reduction of ASC proliferation without affecting cell survival and morphology, and significantly promotes cell migration via upregulation of the CXCR4 expression. Interestingly, the activation of the α7 nAChR also upregulates the expression of M2 mAChR protein, indicating a cooperation between muscarinic and nicotinic receptors in the inhibition of ASC proliferation.  
Downloads
Download data is not yet available.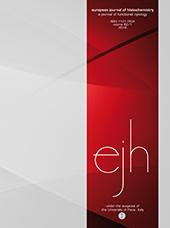 Info
Section
Special Issue - Stem cells and regenerative medicine
Keywords:
Acetylcholine, adipose-derived stem cells, alpha7 nicotinic receptor, proliferation, migration
Statistics
Abstract views:

113



PDF:

58

HTML:

0
How to Cite
Pernarella, M., Piovesana, R., Matera, C., Faroni, A., Fiore, M., Dini, L., Reid, A. J., Dallanoce, C., & Tata, A. M. (2020). Effects mediated by the α7 nicotinic acetylcholine receptor on cell proliferation and migration in rat adipose-derived stem cells. European Journal of Histochemistry, 64(s2). https://doi.org/10.4081/ejh.2020.3159
Copyright (c) 2020 The Author(s)
This work is licensed under a Creative Commons Attribution-NonCommercial 4.0 International License.