Peribiliary gland damage due to liver transplantation involves peribiliary vascular plexus and vascular endothelial growth factor
Antonio Franchitto

Department of Anatomical, Histological, Forensic Medicine and Orthopedics Sciences, Sapienza University of Rome, Italy.

https://orcid.org/0000-0003-0822-3690

Diletta Overi

Department of Anatomical, Histological, Forensic Medicine and Orthopedics Sciences, Sapienza University of Rome, Italy.

https://orcid.org/0000-0003-3561-8903

Romina Mancinelli

Department of Anatomical, Histological, Forensic Medicine and Orthopedics Sciences, Sapienza University of Rome, Italy.

https://orcid.org/0000-0003-2040-0581

Anna Paola Mitterhofer

Department of Translational and Precision Medicine, Sapienza University of Rome, Italy.

https://orcid.org/0000-0002-0132-386X

Paolo Muiesan

Liver Unit, University Hospitals Birmingham NHS Foundation Trust, United Kingdom.

https://orcid.org/0000-0002-7389-6691

Francesca Tinti

Department of Translational and Precision Medicine, Sapienza University of Rome, Italy.

Ilaria Umbro

Department of Translational and Precision Medicine, Sapienza University of Rome, Italy.

https://orcid.org/0000-0001-8237-0766

Stefan G. Hubscher

Institute of Immunology and Immunotherapy, University of Birmingham; Department of Cellular Pathology, Queen Elizabeth Hospital, Birmingham, United Kingdom.

Paolo Onori

Department of Anatomical, Histological, Forensic Medicine and Orthopedics Sciences, Sapienza University of Rome, Italy.

https://orcid.org/0000-0002-7195-3760

Eugenio Gaudio

Department of Anatomical, Histological, Forensic Medicine and Orthopedics Sciences, Sapienza University of Rome, Italy.

Guido Carpino | guido.carpino@uniroma1.it

Department of Movement, Human and Health Sciences, Division of Health Sciences, University of Rome "Foro Italico", Italy.

https://orcid.org/0000-0001-8570-2519
Abstract
Extrahepatic bile ducts are characterized by the presence of peribiliary glands (PBGs), which represent stem cell niches implicated in biliary regeneration. Orthotopic liver transplantation may be complicated by non-anastomotic strictures (NAS) of the bile ducts, which have been associated with ischemic injury of PBGs and occur more frequently in livers obtained from donors after circulatory death than in those from brain-dead donors. The aims of the present study were to investigate the PBG phenotype in bile ducts after transplantation, the integrity of the peribiliary vascular plexus (PVP) around PBGs, and the expression of vascular endothelial growth factor-A (VEGF-A) by PBGs. Transplanted ducts obtained from patients who underwent liver transplantation were studied (N=62). Controls included explanted bile duct samples not used for transplantation (N=10) with normal histology. Samples were processed for histology, immunohistochemistry and immunofluorescence. Surface epithelium is severely injured in transplanted ducts; PBGs are diffusely damaged, particularly in ducts obtained from circulatory-dead compared to brain-dead donors. PVP is reduced in transplanted compared to controls. PBGs in transplanted ducts contain more numerous progenitor and proliferating cells compared to controls, show higher positivity for VEGF-A compared to controls, and express VEGF receptor-2. In conclusion, PBGs and associated PVP are damaged in transplanted extrahepatic bile ducts; however, an activation of the PBG niche takes place and is characterized by proliferation and VEGF-A expression. This response could have a relevant role in reconstituting biliary epithelium and vascular plexus and could be implicated in the genesis of non-anastomotic strictures.
Downloads
Download data is not yet available.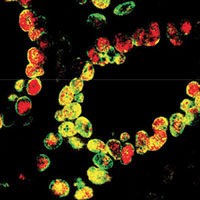 Info
Supporting Agencies
Sapienza University of Rome, European Society for Organ Transplantation, Vesta Therapeutics (Bethesda, MD, USA)
Keywords:
Stem cells, bile duct, liver transplantation, biliary tract disease, Hypoxia-Inducible Factor 1 alpha
Statistics
Abstract views:

728



PDF:

282

Supplementary:

0

HTML:

2
How to Cite
Franchitto, A., Overi, D., Mancinelli, R., Mitterhofer, A. P., Muiesan, P., Tinti, F., Umbro, I., Hubscher, S. G., Onori, P., Gaudio, E., & Carpino, G. (2019). Peribiliary gland damage due to liver transplantation involves peribiliary vascular plexus and vascular endothelial growth factor. European Journal of Histochemistry, 63(2). https://doi.org/10.4081/ejh.2019.3022
Copyright (c) 2019 The Author(s)
This work is licensed under a Creative Commons Attribution-NonCommercial 4.0 International License.