Hepatocyte growth factor intervention to reduce myocardial injury and improve cardiac function on diabetic myocardial infarction rats
Zaiyong Zhang

Department of Cardiology, Panyu Central Hospital; Cardiovascular Institute of Panyu District; School of Life Sciences, South China Normal University, Guangzhou, China.

Cheng Long

School of Life Sciences, South China Normal University, Guangzhou , China.

Yufeng Guan

Department of General Surgery, Panyu Central Hospital, Guangzhou, China.

Mingcai Song | mingcaisong@yeah.net

Department of Cardiology, Panyu Central Hospital; Cardiovascular Institute of Panyu District, Guangzhou, China.

https://orcid.org/0000-0001-5887-9685
Abstract
Acute myocardial infarction (AMI) is recognized to be a severe threat to people's health conditions and life quality. The accumulation of hepatocyte growth factor (HGF) in ischemic myocardium has been observed in both processes of experimental ischemia and reperfusion (I/R) and permanent coronary artery occlusion. The aim of the study was to investigate the effect of HGF on myocardial cell apoptosis, ventricular remodeling and cardiac function after myocardial infarction (MI) in diabetic rats, and to explore whether the effect is mediated by HGF/c-Met signaling pathway. MI significantly increases LVWI and RVWI and myocardial apoptotic index, and up-regulates the expression of HGF and c-Met at mRNA and protein levels in MI control group. The LVWI and RVWI, and myocardial apoptosis were reduced by treatment with HGF, which also increased the myocardial cell viability and the expression of HGF and c-Met. In summary, HGF significantly attenuates myocardial apoptosis and improves cardiac function after AMI in diabetic rats by further enhancing the activation of HGF/c-Met pathway.
Downloads
Download data is not yet available.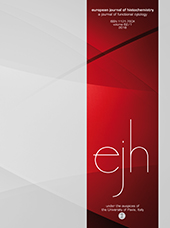 Info
Section
Special Issue - Stem cells and regenerative medicine
Supporting Agencies
Natural Science Foundation of Guangdong Province, Guangzhou Medical and Health Science and Technology General Guidance, Panyu District Science and Technology
Keywords:
Diabetes mellitus, acute myocardial infarction, hepatocyte growth factor, c-Met
Statistics
Abstract views:

156



PDF:

100

HTML:

0
How to Cite
Zhang, Z., Long, C., Guan, Y., & Song, M. (2020). Hepatocyte growth factor intervention to reduce myocardial injury and improve cardiac function on diabetic myocardial infarction rats. European Journal of Histochemistry, 64(s2). https://doi.org/10.4081/ejh.2020.3142
Copyright (c) 2020 The Author(s)
This work is licensed under a Creative Commons Attribution-NonCommercial 4.0 International License.