Different iron-handling in inflamed small and large cholangiocytes and in small and large-duct type intrahepatic cholangiocarcinoma
Romina Mancinelli | romina.mancinelli@uniroma1.it

Department of Anatomical, Histological, Forensic Medicine and Orthopedic Sciences, Sapienza University of Rome, Italy.

https://orcid.org/0000-0003-2040-0581

Antimo Cutone

Department of Biosciences and Territory, University of Molise, Pesche (IS), Italy.

https://orcid.org/0000-0002-7492-8616

Luigi Rosa

Department of Public Health and Infectious Diseases, Sapienza University of Rome, Italy.

https://orcid.org/0000-0002-1252-6080

Maria Stefania Lepanto

Department of Public Health and Infectious Diseases, Sapienza University of Rome, Italy.

Paolo Onori

Department of Anatomical, Histological, Forensic Medicine and Orthopedic Sciences, Sapienza University of Rome , Italy.

https://orcid.org/0000-0002-7195-3760

Luigi Pannarale

Department of Anatomical, Histological, Forensic Medicine and Orthopedic Sciences, Sapienza University of Rome , Italy.

https://orcid.org/0000-0002-3505-5066

Antonio Franchitto

Department of Anatomical, Histological, Forensic Medicine and Orthopedic Sciences, Sapienza University of Rome; Eleonora Lorillard Spencer Cenci Foundation, Rome, Italy.

Eugenio Gaudio

Department of Anatomical, Histological, Forensic Medicine and Orthopedic Sciences, Sapienza University of Rome , Italy.

Piera Valenti

Department of Public Health and Infectious Diseases, Sapienza University of Rome, Italy.

https://orcid.org/0000-0002-4354-3190
Abstract
Cholangiocarcinoma (CCA) represents the second most common primary hepatic malignancy and originates from the neoplastic transformation of the biliary cells. The intrahepatic subtype includes two morpho-molecular forms: large-duct type intrahepatic CCA (iCCA) and small-duct type iCCA. Iron is fundamental for the cellular processes, contributing in tumor development and progression. The aim of this study was to evaluate iron uptake, storage, and efflux proteins in both lipopolysaccharide-inflamed small and large cholangiocytes as well as in different iCCA subtypes. Our results show that, despite an increase in interleukin-6 production by both small and large cholangiocytes, ferroportin (Fpn) was decreased only in small cholangiocytes, whereas transferrin receptor-1 (TfR1) and ferritin (Ftn) did not show any change. Differently from in vitro models, Fpn expression was increased in malignant cholangiocytes of small-duct type iCCA in comparison to large-duct type iCCA and peritumoral tissues. TfR1, Ftn and hepcidin were enhanced, even if at different extent, in both malignant cholangiocytes in comparison to the surrounding samples. Lactoferrin was higher in large-duct type iCCA in respect to small-duct type iCCA and peritumoral tissues. These findings show a different iron handling by inflamed small and large cholangiocytes, and small and large-duct type iCCA. The difference in iron homeostasis by the iCCA subtypes may have implications for the tumor management.
Downloads
Download data is not yet available.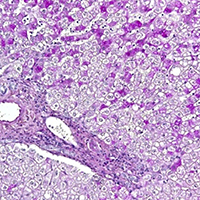 Info
Keywords:
Inflammation, cholangiocytes, cholangiocarcinoma, iron-proteins, ferroportin, hepcidin, lactoferrin
Statistics
Abstract views:

271



PDF:

161

HTML:

0
How to Cite
Mancinelli, R., Cutone, A., Rosa, L., Lepanto, M. S., Onori, P., Pannarale, L., Franchitto, A., Gaudio, E., & Valenti, P. (2020). Different iron-handling in inflamed small and large cholangiocytes and in small and large-duct type intrahepatic cholangiocarcinoma. European Journal of Histochemistry, 64(4). https://doi.org/10.4081/ejh.2020.3156
Copyright (c) 2020 The Author(s)
This work is licensed under a Creative Commons Attribution-NonCommercial 4.0 International License.